Skype announced the completion of the deployment process for Skype Translator . It is now available to all users of Skype for Windows.
The function itself, as the name suggests, allows people to communicate freely, overcoming geographic and language barriers. It provides a detailed interpretation of speech during voice calls, as well as the translation of instant messages.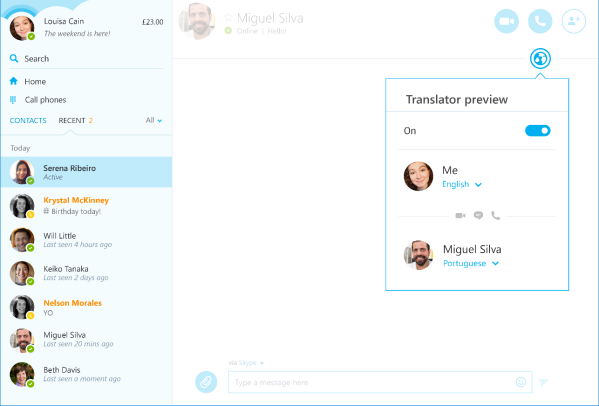 To use it, you simply click on an icon of the globe (in the picture above) in the top right corner of the chat window.
Voice calls translation support the following languages: English, Spanish, French, German, Italian, Portuguese and Mandarin, for text messages – about 40 different languages, including Ukrainian, English, French, German, Italian, Japanese, Russian and Spanish.
Skype also shared an interesting statistical information regarding Skype Translator. For example, some of the most popular languages are French and English, and the number of calls performed since the start of the feature has increased by 400%.
Skype Translator is available in the latest version of Skype for Windows (7.14.85.106).
You might also like
---
Editor Picks
---